Advance your in-home wine cellar with a few useful ideas
You may be storing wine bottles in a cupboard—or a wine connoisseur with an elaborate wine cellar—improvements to the collection, management, and display of fine wines at home can be relatively easy. Any of the following ideas may be a good starting point:


Add Cellar Furnishings That Complement Your Home
The functionality and aesthetics of your wine cellar can take cues from your home's existing décor—rustic, traditional, contemporary, ultramodern—whether the space is large or small. You can hire an architect who specializes in
wine-cellar design
for a complete remodel or simply introduce a few design elements yourself.
You might repurpose some of your furniture or purchase new or estate-sale pieces to add character to the room. Hang a painting or mural, bring in a bistro table and chairs or a formal dining set. A sideboard can display vintage wine bottles and store stemware and tablecloths, while an antique table serves as a wine bar for tastings.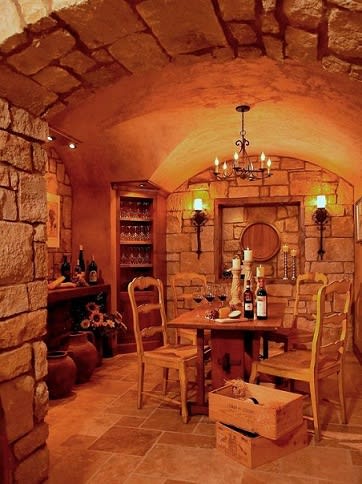 A traditional wine cellar
Find Flooring That Anchors Your Style
New flooring in the wine cellar can dramatically change the look and feel. Equally important, is choosing the right material for
effective wine storage
; an ideal system keeps temperatures from 45 to 55 degrees Fahrenheit and humidity around 50%. Proper flooring can help maintain these levels.
When working within Corona del Mar real estate, some
appropriate materials
are sealed hardwood or natural stone; cork (a thermal and acoustic insulator); painted porcelain tiles in a wine motif; a mosaic of fine china, stained glass, or tile pieces; and rustic
wine-barrel flooring
.
Choose the Right Racks for Your Collection
Racks are the bones of your wine cellar and the primary design element. From
DIY cellar kits
to
custom-made wine racks
, the configurations are extensive, so you may want to work with a designer. Racks depend on a wine cellar's style, collection size, and available space, as well as future storage you may need as the wine collection grows.
Explore racks in metal, wood, and indifferent stain colors. In addition to rack design, an arched or glass cellar door can frame your treasured bottles in a more intriguing way.


Organize and Manage Your Inventory
When a few bottles blossom into a full-blown collection, it's time to get organized. Keep track of your purchases on a spreadsheet, or use free
wine apps
for more flexibility, such as listing wines to buy later or storing photos of favorite bottles. Catalog the inventory by varietal, year, or alphabetically by the label.
Age any wines you don't plan on drinking right away (a wine dealer can offer guidance on specific wines). If you coordinate vintages with special events, you'll know which bottles will be ready to open for the next anniversary or holiday celebration.


Change the Mood with Wine-Cellar Lighting
A well-appointed wine cellar welcomes guests in a warm and inviting atmosphere. A chandelier hangs over a table, sconces throw patterns on a stone wall, a spotlight accents an oil painting, and display lighting highlights a collection's rarest finds. Even a single light fixture can easily change the mood. If you're looking for ideas,
Vigilant
is a DIY wine cellar company that provides photo galleries and
videos
to inspire the perfect lighting.
Remember, constant direct light or heat can affect a wine's flavor; using lower-watt bulbs or dimmer switches allows enough light for carrying out tasks while protecting your wines. Therefore, soft lighting is magical—and essential. Of course, when you leave the cellar, turn out the lights for complete darkness.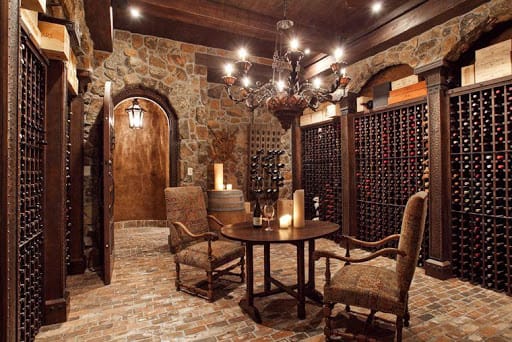 Lighting creates the mood you want